Professional Basement Finishing Near Middletown, Poughkeepsie, New City
Creating a beautiful, private space in your basement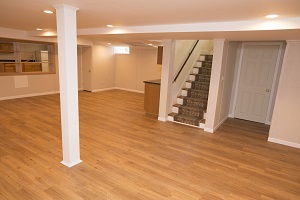 Let our experienced contractors create a beautiful, long-lasting, waterproof design for your New York basement.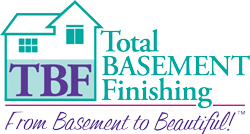 Picture your basement the way it is now; dirty, cold, damp, musty and virtually unusable. Now imagine it as it could be; finished, dry, comfortable and an asset to your home for as long as you live there...and longer!
However you would like to use your basement, whether as a family room, extra bedroom, home office or gym or a man cave, The Home Transformer of NY is your go-to basement finishing contractor. By using the Total Basement Finishing™ System, you can know for certain that your new basement is finished correctly and permanently. We provide you with the finest services and the highest quality products on the market today, including our 50-year warranty on our basement walls and a 30-year warranty on our ceiling tiles.
Contact us today to schedule your free in-home design consultation and estimate! We offer basement finishing and remodeling services in Middletown, Poughkeepsie, New City and many nearby areas.
Finished basement walls, floors, ceilings & more!
The Total Basement Finishing™ System is a complete basement finishing process. We carry a variety of basement remodeling products, including wall panels, flooring, ceiling tiles, as well as other solutions like windows, lighting, and electrical work. Our products are designed to withstand a basement environment, no matter what the climate is near your home.
Additionally, the versatility of this basement finishing system allows for you to do virtually anything you want with your basement. Add an extra bedroom and living space, or mount a TV on our studless basement walls and design an entertainment room!

Get your free basement remodeling quote
If you're interested in planning and pricing for your remodeling project, The Home Transformer of NY can help. We would like to offer you a free basement design quote at no obligation.
Your free quote includes all of the following:
A professional on-site basement inspection.
A design consultation with Total Basement Vision - our interactive software program.
Your basement finishing proposal, in writing and e-mailed to you or printed right away.
Our full-color 88-page book: "Basement Finishing Science."
At The Home Transformer of NY, our mission is to provide you with responsible basement finishing, at a fair price, while providing exceptional customer service. Call or e-mail us today for a free estimate on finishing your basement in Middletown, Poughkeepsie, New City, Wallkill, New Windsor, Spring Valley, Hopewell Junction, Nanuet, Hyde Park, Blooming Grove or nearby!